"Ahlan Wa Sahlan" ACCA Students in Dubai 🇦🇪!!!
FREE ACCA WORKSHOPS DUBAI
Finally, VIFHE is coming to Dubai, to conduct its Physical ACCA Workshops, for ACCA Dec 2022 Attempt, with a joint collaboration of The Legend Educational Services Center Dubai.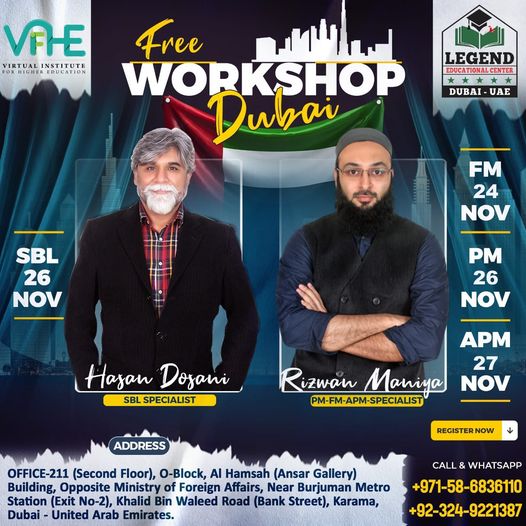 Schedule Of Vifhe's Physical
ACCA Workshops
Meet Your Subject Specialist
Rizwan Maniya
Subject Specialist (APM, PM & FM)
+13 Years Teaching Experience
Delivered more than 10 Global Webinars (PM & APM) organized by ACCA Pakistan

Hassan Dossani
Subject Specialist (
SBL
)
+20 Yea
rs
Teaching Experience
Currently, A Director Finance In a Multinational Company
Testimonials
You are in
Good Care
Excellent - The tutors cover the full scope of the syllabus in sufficient detail, and provide us with interactive videos that make it easy to digest and remember complex topics. I'm a big fan of the assignments, as it gives us an opportunity to get our answers thoroughly reviewed with personal feedback. The Live Sessions are also a great resource, allowing us to engage with the tutor and our fellow students to tackle questions and difficult areas. The Grand Revision, pre-exam revision voice notes and mock exams were also invaluable in preparing for my exams. Many thanks to Rizwan Sir,, TA Adnan for teaching and training us so well for APM
Madhumathi Govind
APM is considered to be one of the toughest paper. I was anxious as I couldn't find a suitable tuition provider back in India. Thereafter I shifted my focus to tuition providers globally and Rizwan's sir free game changer webinars made my decision easier. I wouldn't change anything about the course . The video lectures, the live classes and Game changer webinars helped me to focus more on concepts as well as question solving. In 3 years, I've never seen a tuition provider who solves almost entire revision kit in class. It made me more confident and in turn helped me tackle all sort of questions. Lastly, the mock helped me to practice time management which is vital for this paper. The WhatsApp group also offers immediate support and Sir's constant check on completion of video lectures helped me to revise the revision kit thrice before the paper. Wish I had known VIFHE before. I wish the best for this entire team and specially Rizwan Maniya Sir. I also extend my gratitude to the sir. You're the best! Thank you so much!😊Paper - APM June Attempt Candidate
Hasan Dossani sir is the God for SBL. I studied from his notes and video lectures and his eye for detail in answering questions along with the approach he takes to guide students is really really helpful. He understands the pressure we feel and accordingly provides solutions / action plan. The tips and tricks make all the difference. The subject is not tricky but it is important to crack the way to write answers and sir has played a pivotal role in explaining this acquired skill beautifully. Thank you sir!
Nishtha Kumar
Sir Rizwan Maniya is, in my opinion, the greatest Financial Management teacher available. His teaching technique is fantastic; he ensures that every concept is covered in class and that each concept is understood. Aside from sir being an excellent instructor, I'd like to mention that the VIFHE portal is quite beneficial in terms of practice exams, assignments, and so on. Also, a great thank you to Sir's assistant, who was always there to clear my doubts and assist me! Overall, I had a terrific experience with VIFHE, and my advice to anyone interested in learning FM is to go with VIFHE; you won't be disappointed. Take my word for it.
Aakid Sahban
ACCA Resit September 2022 Attempt
ACCA December 2022 Attempt