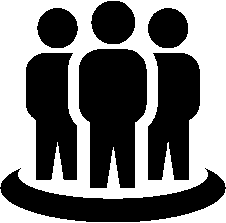 Meet our Acca Professional Faculty
__________________________
A perfect blend of experience and motivational wizardry. The best people formula.
Sir Hasan Dossani is a Fellow Chartered Accountant with 20 years of teaching and working experience. He specializes in teaching Strategic Business Leader (SBL) in a simple and exciting manner with unique tips and exam techniques, helping thousands of students pass since last many years.Currently, he is working as Director Finance in a multinational organization. His experience as a Board Director enables him to give students real live examples, covering both Governance and Business Strategy components, making sure that students are able to handle SBL case study successfully.
Mr. Rizwan Maniya has been teaching ACCA students for papers Performance Management, Financial Management, Advance Performance Management for more than 13 years with pass rates above Global ACCA and produced nationwide and also Worldwide pass rates in the ACCA papers. He also completed articles with EY (Ernst & Young) Pakistan and was also a part of ACCA MENSA faculty which conducted webinars for Global Students. Moreover, he has conducted 6 Global Webinars for APM (Advanced Performance Management) and 2 Global Webinar for PM (Performance Management) conducted by ACCA Pakistan.
MR MUNIR MUHAMMAD SHAFI (ACA, FCCA) IS A PROFOUND PRACTITIONER-CUM-EDUCATIONIST HAVING PROFESSIONAL ASSOCIATIONS WITH ALL LEADING CHARTERED ACCOUNTANCY BODIES. HE IS AN ASSOCIATE & PRACTICING MEMBER OF INSTITUTE OF CHARTERED ACCOUNTANTS OF PAKISTAN (ICAP), FELLOW MEMBER OF ACCA AND QUALIFIED PERSON RESPONSIBLE FOR TRAINING (QPRT) AUTHORIZED BY ICAEW FOR HIS OWN CHARTERED ACCOUNTANCY PRACTICE. HE IS ALSO AN ACTIVE MEMBER OF TAXATION SUBCOMMITTEE OF ACCA PAKISTAN.
MR. Taha Popatia has been teaching students for more than 8 years. He is a skilled instructor of various computational subjects including subjects of Management Accounting (ACCA), Advanced Financial Management (ACCA), Cost and Management Accounting (ICAP), Business finance Decisions (ICAP), Quantitative Methods (ICAP) and Strategic Financial Management (SFM). His students have secured National Positions numerous times.He completed his articles from Ernst and Young (EY) Pakistan and has a unique record of securing multiple national positions himself as a student.
Mr. Jawad Rauf as a faculty member for ACCA "Financial Accounting" course. Mr. Jawad Rauf is a member of "Institute of Chartered Accountants of Pakistan" (ICAP), currently working as an investment banker and consultant with over 7 years' experienced, diversified and in depth experience in the areas of Auditing, Accounting, Regulatory Compliance, Financial Management and Financial Planning.He has completed his CA training from A.F. Ferguson & Co. (a member firm of Pwc).
This is Hasnain Rahmani. I am working in Assurance and Risk Advisory department at KPMG since the last 8 years and a member of various professional accounting bodies. I am also a Vice President of my Rotaract Club and a professional trainer.I am teaching various subjects of ACCA since the last 5 years particularly Audit and Assurance
Sir Faizan Farooq is Associated with ACCA and having 13 years of teaching and working experience in UAE and Pakistan.
He specializes in teaching TX and ATX.
Currently, he is working as Finance Manager in a reputed Organisation and associated with a reputed University as a faculty member.

I was a high achiever in O Levels Business and am currently an ACCA finalist and teaching F1 and F4 courses online at VIFHE. I have been teaching English and various Business subjects over the last 5 years.
Teaching has always been a passion of mine, along with music and public speaking.
You will find me a free spirited and open minded personality, who will not merely teach, but motivate you to become the best version of yourself.
Ms Tashwita Gupta is One of the World's Youngest ACCA affiliate, who completed ACCA at the age of 18 years. She believes in smart work and has worked in UK Client Reporting role in an international firm. She is currently indulged in online tutoring for Accounting and Audit subjects, providing accounting services to UK clients, making motivating and informative videos on YouTube and pursuing MSc from University of London.She believes in explaining every concept from the scratch and gives emphasis on the exam technique and approach. Her students not only call her a good tutor but also a great motivator.